BRAIN GAINS Black Edition – Nootropic Brain Fuel
$79.95
or 4 fortnightly payments of $19.99 with
More info
Description
Additional information
Reviews (0)
Description
Switch On Black Edition is a stimulant enhanced version of Brain Gains' top-ratedfocus boosting supplement simply known as 'Switch On'. The UK brand has taken every ingredient and dose from its original product, and combined it with reliable amounts of PurCaf organic caffeine, TeaCrine, and Dynamine, for an even more complete experience.
An entire tub of the comprehensive energy and focus enhancing supplement comes with 20 full servings and has four flavors to choose from in Blue Raspberry, Watermelon, Mango, and Strawberry Kiwi.
The exciting new product takes everything that made the first version so great, and added in a few more ingredients. That includes the solid dosages of ashwagandha, lion's mane, and tyrosine at 600mg, 600mg, and 2g, respectively.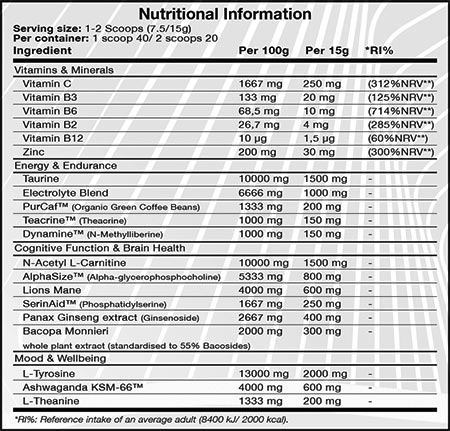 The additions Brain Gains has put into the upcoming Switch On Black Edition are 200mg of PurCaf organic caffeine, 150mg of Dynamine, and an extra 50mg of TeaCrine. The brand has essentially infused with the supplement with stimulants, which will certainly add a lot more energy to the experience, although the changes don't end there.
On top of the added stimulants, Brain Gains' has switched to premium, branded versions of a few ingredients for the Black Edition of Switch On. Instead of the generic forms, the product now features KSM-66 ashwagandha, SerinAid phosphatidylserine, and AlphaSize alpha-GPC. 
If your looking for a little more stimualant kick with all the subtrates for your neurotrsmitters and a smooth clear focus then you you have Brain Gains Switch on BLACK EDITION – perfect for Gaming, the office or starting your plans for world domination – two scoops will thake you though a kick ass workout of cardio session too.
Enjoy – The Cave Clan!